Recently, Garmin's Forerunner 745 Smartwatch has been introduced with added work out insights and features. This smartwatch is one of more affordable gadgets for athletes and swimmers. With a running GPS service, the FR745 is basically an extension of the previous FR345 by Garmin 4 years back.
MULTIPLE USES AND HIGH ON DURABILITY
The Forerunner 745 is suitable to be used in any kind of environment. Be it a long stretch of swimming or heavy biking over several miles. It can withstand humidity and sweat, bumps and whatever comes across its way. Perfect little thing for a triathlete who has to workout and practice in multiple environments.
A 'SMART' LOOKING SMARTWATCH
Very stylish, the Garmin's FR 745 is a very well crafted piece of art. Looks smart and is made of durable leather. Comes in four different colours, the back of the watch is as strong and durable as ever as you can see below.
DAILY WORKOUT ROUTINE PLAN AND TRAINING EFFECT
The Garmin's Forerunner 745 Smartwatch is capable of creating a complete workout routine plan customised especially for its user. It will provide effective suggestions based on the user's fitness level like how much exercise and run is needed per day. Also, it will provide a complete detailed layout about the effect the training had on the user. This it will analyse keeping in view factors like stress, daily activity, rest and much more. Moreover, the smartwatch is capable of giving suggestions as to when the user will be ready for yet another round of physical workout.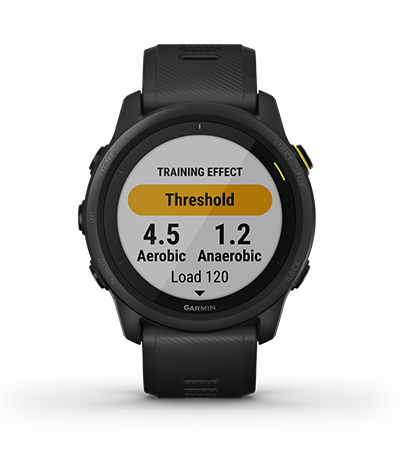 BUILT-IN SPORTS APPS IN GARMIN'S FORERUNNER 745 SMARTWATCH
With a built-in sports app for the users, it is easy to save your data regarding various different types of sports. You can record data for running, cycling, triathlon, pool and open water swimming, track running and more.
VO2 MAX & PERFORMANCE CONDITION
The VO2 Max Factor is also present where the user is given an expected performance standard. This is a metric against which the user can measure his own actual performance and notice the difference. While in exercise, the FR 745 analyzes your heart rate, pulse rate and pace.
TRAINING LOAD & STATUS
This is a metric that measures your exercise volume from the previous week and matches it with the predicted score. This is based on the user's fitness level and recent training plan. Then, a detailed analysis is done to indicate if the user is training productively and is doing better than before.
CYCLING POWER AND RUNNING DYNAMICS
The Garmin's Forerunner 745 Smartwatch introduced is compatible with another of Garmin's gadgets, the Power Meter. This gadget if used together provides efficient insights into cycle dynamics using FTP and advanced training strategies.  Also, there is another gadget that helps measure running performance of the athlete in the same way keeping in view factors like distance, mileage, ground contact time etc.
MULTI-GNSS SERVICE
So apart from the GPS service system, the Garmin Forerunner 745 also has access to multiple global navigation satellite systems including GPS, GLONASS and Galileo. This helps in better tracking and navigation.
GARMIN COACH AND CONNECT
With the help of Garmin Connect feature app, the user of this smartwatch can create customised courses. Also, he can use the free adaptive training plans feature guidance from experts to apply it on his own self. The Garmin Connect is a place shared by millions of Garmin's users and you can get access to a thriving online community. You are free to share your own experiences here on a daily basis.
PULSE OX SENSOR AND WRIST HEART RATE MEASURE
Presence of a wrist-based sensor monitors blood oxygen saturation levels. This indicates factors like stress, relief and type of sleep the user is going through. Also, oxygen levels may differ with altitude so this smartwatch will keep an eye on your breathing issues and also measure heart rate and pace during this physical exercise.
BODY BATTERY ENERGY MONITORING FEATURE
With an ability to measure the current energy level of the body, this smartwatch can also predict the ideal timings for the next activity or rest period.
MUSIC ALWAYS ON YOUR WRIST
The Forerunner is capable of keeping in record 500 different songs. You are free to sync your playlists from live music streaming services such as Deezer, Amazon Music and Spotify.